Alive Software Upgrade
$249.00
Add all the Clinical Features & Benefits to your Alive system.
Choose the best feedback method for your use.
Do you own a Lightstone or IOM Pro by Wild Divine with 3 finger sensors?
Use Skin Conductance (SCL) for quicker response and more available games.

Some Alive Versions now use Blood Volume Pulse (BVP) as an extra feedback measure with all its benefits to use.
Alive Clinical is required for Alive Pioneer & Dreamscapes upgrades.
Description
The Alive Software Upgrade is an easy, inexpensive way to extend your hardware and software options.
Alive is a comprehensive software platform which comes in 3 levels: Standard, Clinical & Pioneer. This Alive Software Upgrade allows you to move from the Standard (personal) to Clinical version. Or, it allows you to upgrade from Alive Clinical to Alive Pioneer.
The ALIVE Biofeedback system is a comprehensive personal coaching and gaming system. This is ONLY an Alive SOFTWARE upgrade to the STANDARD or CLINICAL version of this product; hardware and previous Alive Standard software is required.
The Alive Software Upgrade creates a transforming addition to your practice: All of your clients can have their progress recorded, tracked and your methods proven. They play games engineered to help them better manage stress, train for peak performance, and achieve better emotional and mental balance. YOU enjoy the benefits of engaged clients and visual, quantified proof of the progress in your methods.
The Clinical version of Alive allows for unlimited users and includes Advanced Graph Training, Session Review, and many best-in-class clinical features: Unlimited user profiles with reset privileges, orientation bypass (Main Menu unlock), and Skin conductance data (IOM sensor version only).
Alive Clinical Version benefits:
Train with more than 7 clients per license
Train using Skin Conductance (SCL/GSR) — IOM sensors only
Train using detailed Heart Rate, HRV, BVP, and Skin Conductance graphs
View graphs and add comments on your monitor while a client plays Alive on another monitor
Per-session analysis of Heart Rate, Smoothness (coherence), and Skin Conductance
Skip the coach introduction and/or disable the coach, change difficulty levels, and export data to Excel
A growing library of clinical training tips and indications written by Yuval Oded of Psy-Phi, including the robust Clinical Version User Guide.
NOTE: *The upgrade to Alive Clinical (*or Pioneer) requires your current Alive Standard (or Clinical) Serial KeyCode information be provided. If you purchased your Alive system directly from Stress-Free Living or BrainTrainCoach.com, we will have your Serial Keycode on file and you won't need to provide anything. Your KeyCode will be upgraded to unlock the Clinical or Pioneer Features for you. You will not require or receive a separate software program.*
Here are just a few of the Alive Pioneer Biofeedback System Benefits:
Unlimited number of graphing screens viewable at the same time.

Train with Average Heart Rate,

*BVP Amplitude*

(IOM required for BVP Amplitude training), Heart Rate Range and other new Pioneer measurements.
New customized Particle Environments appropriate for each Pioneer measurements. These environments optionally let you

train two measurements simultaneously, for example heart rate and skin sweat at the same time!

Automatically or manually range any feedback for training.

Train 2 users together if you own 2 IOMs/Lightstones.

Sports training and Marriage Counseling get a great, new synergy tool!

*Dr. Yuval Oded expertly teaches you how to train 2 people to overcome differences or work in team synergy with the Alive Pioneer Biofeedback Training with Couples White Paper.
Optionally

record and playback audio from a microphone

, to help you review important changes by what was said in the session.
Also, we recommend that you have updated Alive to its latest version, currently 3.2 to get all the latest features and improvements.
This is a quick 5 minute Overview of New Updates to Alive Pioneer.
This is the latest, FREE UPGRADE to Alive Pioneer – check out the new features, functions and capacities added to the system.
PC and Mac Minimum System Requirements:
Alive Active Feedback Hardware — HeartMath emWave or Wild Divine Lightstone or IOM finger sensors (*NOT included)
Windows XP / Vista / Windows 7 / Windows 8 / Windows 8 / or Win 10 operating system
macOS 10.10 – 10.15 (Catalina) (older macOS will work, but 10.10+ preferred)
Go here for macOS Catalina and Higher Requirements (PLEASE View, e.g, no Iom sensor)
2.0 GHz Processor
Dedicated Video Card Supporting OpenGL 2.0
1 GB RAM
CD-Rom Drive
3 GB of Disk Space
Internet connection recommended (enables updates and community features)
Alive may work even if your computer does not meet the minimum video card requirements. If you are unsure if Alive will work on your computer please download OpenGL Caps Viewer and make sure your OpenGL version is 2.0 or higher (on the first tab of OpenGL Caps Viewer, next to OpenGL, it should say OpenGL 2.0 or higher).
ALIVE MAY ONLY BE USED ON ONE COMPUTER AT A TIME. ALIVE CAN BE INSTALLED ON TWO COMPUTERS AS LONG AS ONLY ONE COPY OF ALIVE IS IN USE AT ANY GIVEN TIME.
To learn where you can get the most Clinical Biofeedback background, here is a short take on 3 Biofeedback Book Resources "Top 3 Biofeedback Books For Professionals" — such that you can best learn how this system can be used in your practice.
Are you familiar with all the ways to gain Optimal Performance for Athletes or Executives?
The techniques discussed in this whitepaper by Dr. Yuval Oded can apply to any biofeedback training session from children with attention issues or to adults needing to relax or remove negative thought patterns, it is not limited to Optimal Flow State Performance as highlighted on page 2.
There is a full range chart of specific measures in SCL, BVP & HRV with specific Alive Clinical Games & Environments such that you get a good understanding of how to use your active feedback system.
Find out more here: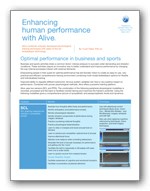 Peak Performance using Alive Clinical Biofeedback A White Paper for Professionals