HeartMath emWave Pro Biofeedback System
$299.00
emWave Pro Biofeedback from HeartMath
A full system using HeartMath software and hardware for Professional Biofeedback Training.
emWave Pro Features

Transformative Games and Environments.

Great support from HeartMath.org website, including professional eBooks.

HeartCloud included

*Software Only: Requires HeartMath Sensors.*
Out of stock
Description
emWave® Pro Hardware and Software Program
For Professional Biofeedback Training or self-educating users who want HeartMath technology and support.
Are You a Health Professional and Want to add a Biofeedback System with HeartMath Technologies to Your Practice?
emWave Pro is a unique training system that objectively monitors your heart rhythms and displays the physiological level of coherence — an optimal state in which the heart, mind and emotions are operating in sync and in balance, and the immune, hormonal and nervous systems function in a state of harmonious coordination.
Using a pulse sensor plugged into your USB port, emWavePro collects pulse data and translates coherence information into user–friendly graphics displayed on your computer screen. emWave Pro helps you create a coherent state through coherence techniques, interactive exercises and games, building resilience, increasing energy, and promoting focus,
mental clarity and emotional balance.
---
Three interactive games help you transform stress into creative energy.
Emotion Visualizer® provides stunning colorful images which vary according to your emotional state and coherence level.
Coherence Coach® leads you through breathing exercises and a simple technique to rebalance your system.
My Inspiration enables you to create your own images for coherence building.
---
NEW! emWave Pro Now Available with HeartCloud™ !
Deepen your Heart Connection with HeartCloud. A new on-line platform that syncs all of your session data and tracks activity and history, giving you the ability to track universally, earn rewards for your efforts and share with others.
HeartMath technologies − proven to help users quickly release stress and re-balance the heart, mind and emotions
HeartMath provides research along with simple, practical and reliable tools and technologies that enable people to align and connect their heart, mind and emotions to produce transformative outcomes — with more flow and less stress.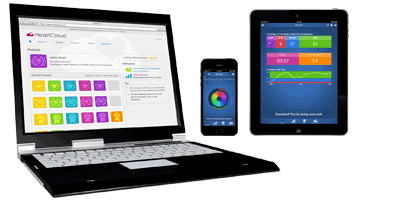 Results

Trends

Tips

Training

Rewards

Inspiration
HeartMath's HeartCloud connects with all of the HeartMath heart rate variability (HRV) monitoring and coherence building technologies including emWave® Pro, emWave2® and Inner Balance™. The new platform helps users build on their training experience, achieve rewards for their success and celebrate their results with others. The components of the platform include:
System Requirements Windows:
Microsoft Windows® 7 or newer Operating System Preferred

Some features may not be available on older Operating Systems

1.0 GHz or faster processor — recommend Intel® Core™2 Duo at 2.0GHz or faster

1 GB RAM — recommended 2GB or more

One available USB Port

Progress View Displays best on Graphic Display Heights of at least 768 pixels

Internet Access Required for HeartCloud Access
System Requirements Mac:
Mac OS® X 10.7 Lion or later

Core™2 Duo at 1.8GHz or faster

One available USB Port

Internet Access Required for HeartCloud Access