Sale!
Mindfulness Academy Biofeedback Software
Mindfulness Academy
A new style of self-focus training with Mindfulness Academy.
Use this entertaining 6 Exercise Set to create stronger mind power for everyday success.
Affirmation Balloons are a FAVORITE.

Learn how to Energize your Wellness Battery.

Find Balance in life and work with harmony exercises.
Out of stock
Description
The Mindfulness Academy by Wild Divine is a new way to train your mind for success.
Mindfulness Academy is cutting edge Biofeedback Training for a Happy Mind and Healthy Body.
It's a flexible, entertaining way to hone your focus and concentration, increase and maintain your energy- even if you are feeling overwhelmed. Very quickly, you begin to see how to live a life that's less about your stress, and more about realizing your dreams… less about what you MUST DO and more about fulfilling your ever-expanding potential to THRIVE in every part of your life.
While immersed in on-screen play, your mind is diverted away from stressors… You learn to defuse challenging situations, people, emotions, and thoughts faster, easier, and more naturally. So you can get back to your life. Have better relationships. Be more productive. Feel more balanced and focused. Have more fun.
What's in Mindfulness Academy:
6 Unique and Entertaining Mindfulness Exercises to keep you engaged and learning faster
Difficulty levels you can tailor to your mood, your skills and needs, so that you never get bored
Just as you are unique—Mindfulness Academy allows you to adjust your own personal breathing cycle so that you get the best results possible
Personalize your efforts—we help you set, and appreciate your goals and affirmations with worksheets to inspire and focus- helping you achieve more personal growth
Visualize your own Positive Affirmations because you can customize them to fit your dreams-and help make them true
It's a scientifically based, proven way to know that you and your body are returning to a place of calm and quiet, the place where you're at your most focused, your most effective and powerful.
Tap into your sub-conscious to make challenges and obstacles diminish Learn proven breathing, relaxation and meditation techniques to help you achieve a new level of well-being and balance Discover how rapidly improving your meditation will actually amp your productivity and earning-potential.
Visualize your own Positive Affirmations because you can customize them to fit your dreams-and help make them true.
Here is a 3 snapshot progression of how you start the Affirmation Balloon Exercise with negative, limiting beliefs. You match the breath pacer balloon in the upper right, calm yourself, envision success and then when the balloons turn to parachutes, you soak it in and allow the beliefs to become stronger and stronger. Daily practice creates success.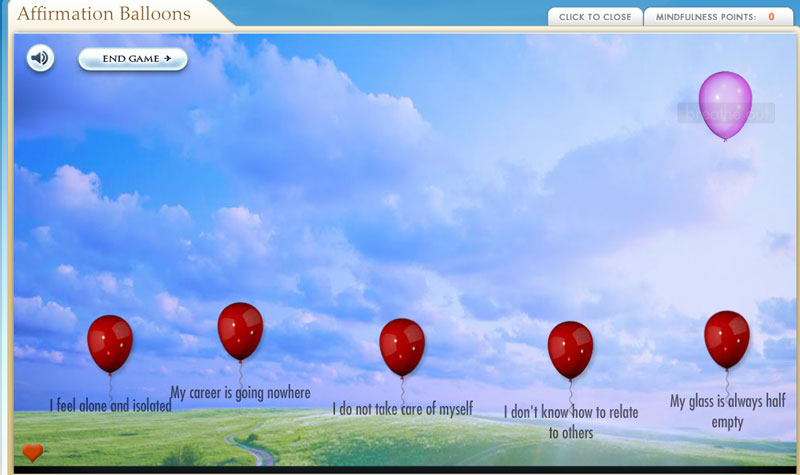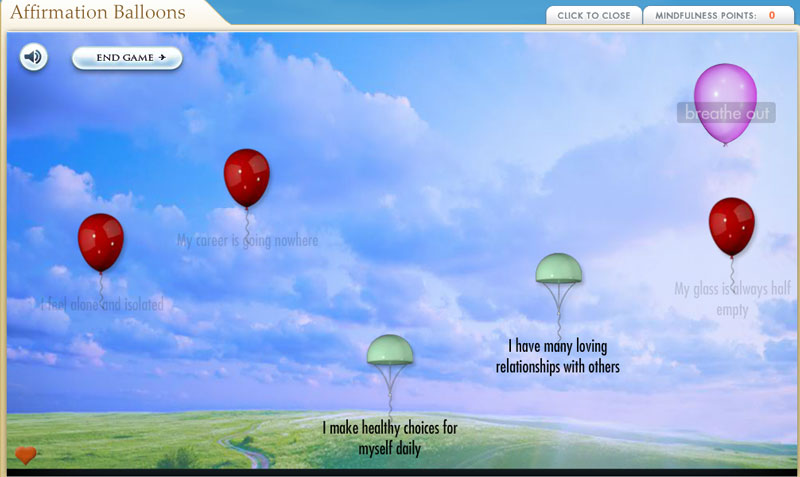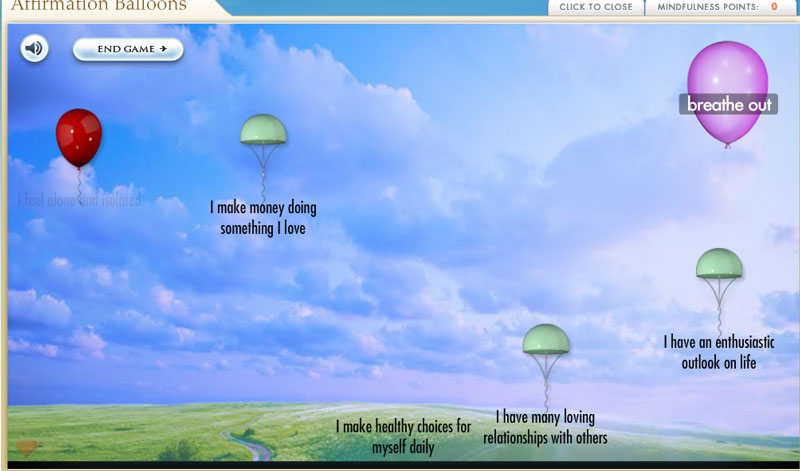 This is the Software only version that requires IOM finger sensor hardware from the original system to use it.
Minimum System Requirements:
PC – Windows XP, Vista, Win 7. Win 8 & Win 10 require update (free by request)
Mac – Mac OS 10.6 or 10.7, higher version require update (free by request)
1024×768 color display
Intel Core Duo or faster Dual-Core processor recommended
**This product REQUIRES FINGER SENSOR HARDWARE not included for it to work**
Additional information
| | |
| --- | --- |
| Weight | 0.4 lbs |
| Dimensions | 8 × 5 × 1 in |