iFeel Android Apps Alive Bundle
$299.00
Professional Level Biofeedback in mobile platform:
Includes workshops, personal coaching and gaming for the ultimate learning experience.
An innovative and entertaining way to benefit from biofeedback technology.
Great for kids, adults, or anyone who loves games.
Works on Android Phones and Tablets. Very affordable.
Description
iFeel Android Apps Alive Bundle
The ultimate of portable biofeedback systems, the iFeel Android Apps Bundle is priced to allow anyone to attain level's of self-understanding and optimal performance once reserved for elite athletes or only in top health facilities.
Introductory Price Special $249 for this combination of the iFeel Sensor ($199) and Android Apps ($149) — the Alive version for phones and tablets. Save $100.
The iFeel Android Apps Bundle allows for home training of clients for coaches and therapists — for personal use, executives, sports enthusiasts, students, classrooms, and workplace stress management centers.
The iFeel Android Apps bundle combines Alive's best software designs, its Clinical level graph functions and all new games and environments built to play on today's phones and tablets.
The iFeel Sensor's high level of accuracy works well with Somatic Vision's latest software programming to run effectively on even the lower capacity, $100 or less Android Tablets.
Here is a collage of a few of the iFeel Apps available: the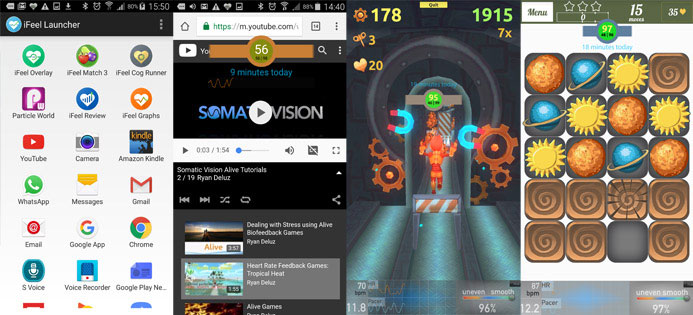 Here are just two more of many options in the Android Apps package

Complete Android Apps Bundle
Overlay uses all Android Apps as feedback! Train while watching movies, checking e-mail, surfing the Internet, or playing any game.
Easy to Use! Just connect the sensor, then launch the Apps.
Clinical Grade Alive Mobile Graphing — Fun Match 3 and Cog Runner Games — Beautiful Particle World Environments
Easy Adaptive Smoothness and Adaptive Pacer for Continuously Optimized Training — Or use Alive Smoothness Difficulty Levels and a Constant Speed Pacer.
iFeel Bluetooth Heart Rate Sensor
Includes Both Ear and Finger Sensors
Measures Heart Rate, Smoothness and SpO2
Runs for Over 8 Hours on a Single Charge
Connects to Android devices using Bluetooth or BLE
CE and ISO Certified, FDA Registered iFeel Sensor
iFeel Sensor also works with all versions of Alive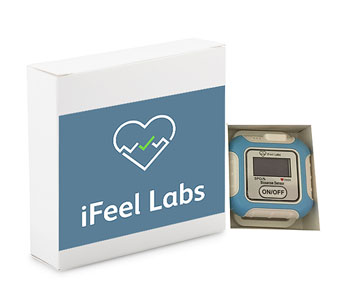 The iFeel Sensor Package.
Includes Ear and Finger Heart Rate Sensors, Base Unit, and All Apps.
The iFeel Sensor can also be used with Alive software if you own Alive for Iom, emWave or GP8 systems.
Learn More about the Android Apps
Overlay Biofeedback Training Module
Train with Any App or Game
Overlay displays your smoothness and paces your breathing while you check your e-mail, watch videos, read books, chat with friends, or play your favorite games. When smoothness lowers, Overlay (optionally) grays out your screen and lowers your music volume.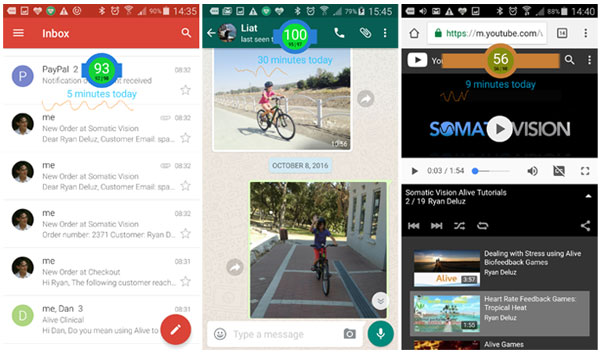 Particle World Environments Suite
Beautiful feedback environments
13 beautiful and engaging environments designed to help you relax and breathe optimally.
Beautiful scenes fill with color, movement and music as you increase smoothness.
Includes Valley and Petals of Light environments from Somatic Vision's Alive Clinical desktop software.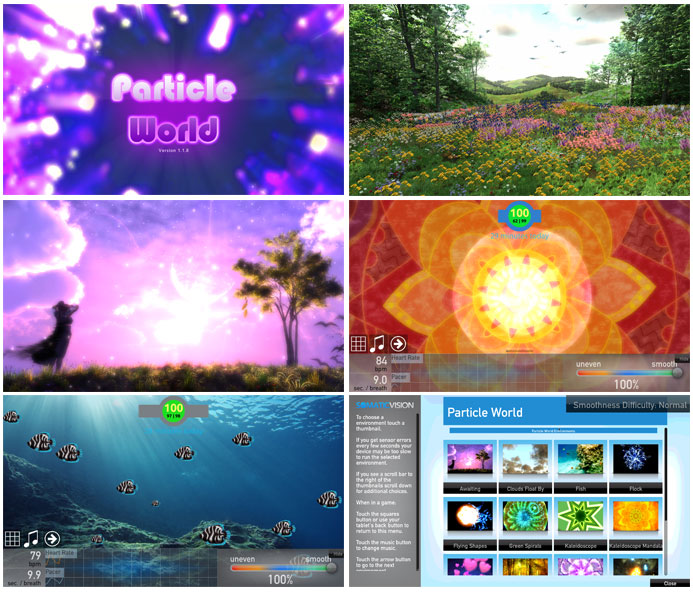 Match 3 Games
Fun for Everyone
Match 3 is a Candy Crush type game where you form matches to win. The entire game responds to heart rate smoothness, getting larger, brighter, and moving faster as you increase your heart rate smoothness!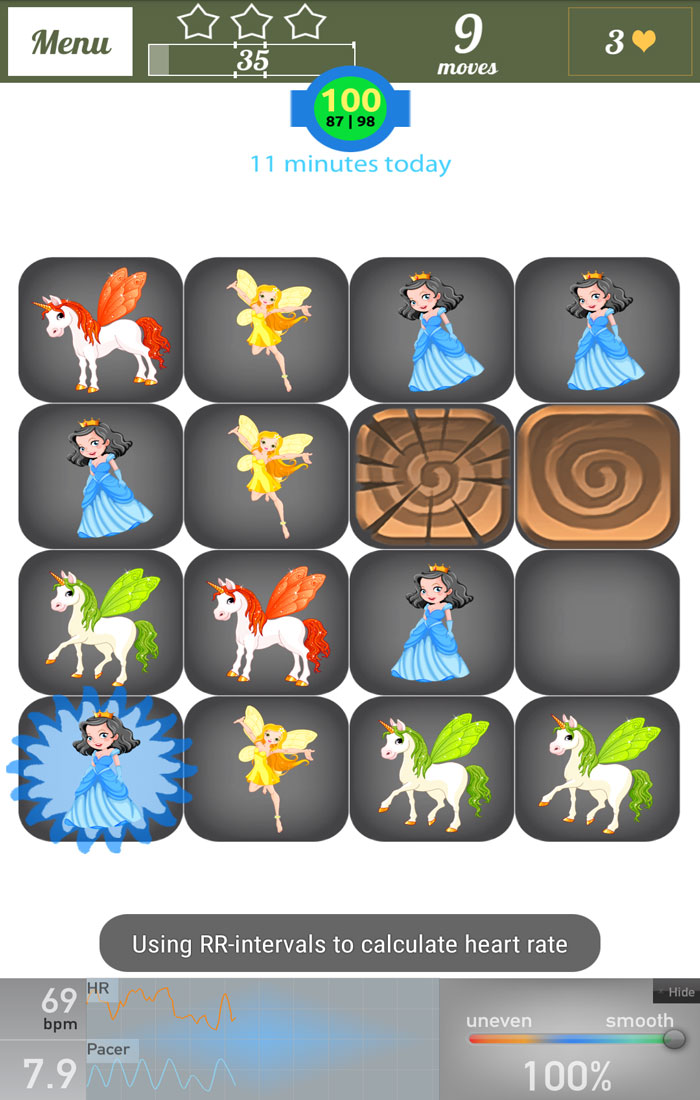 Cog Runner Game
Relax to Run Faster!
Swipe left, right, down, and up to avoid obstacles and grab powerups. Increase your smoothness to run faster and brighten the race track.
You must have 60% smoothness or above to play!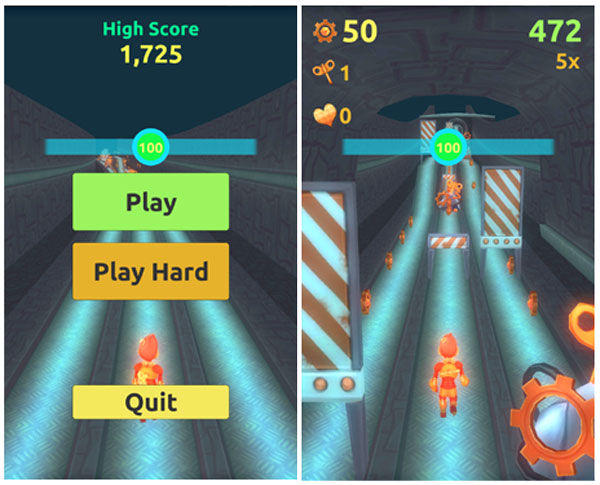 Launcher and Coach
Start Screen, Progress Tracking and App Options
The Launcher opens and configures all Apps. The Launcher includes a Coach that keeps track of your training and displays detailed reports after each training session.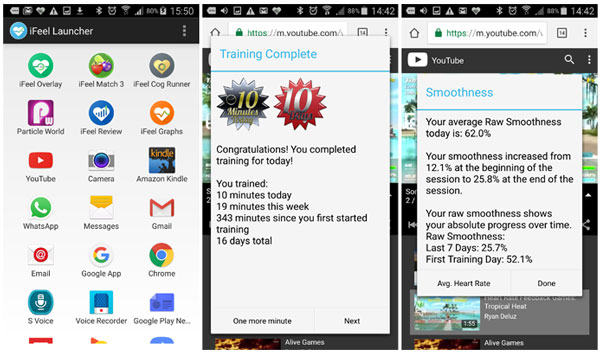 Progress Review Screens
Check Your Progress!
Review Sessions from all Somatic Vision / iFeel Apps.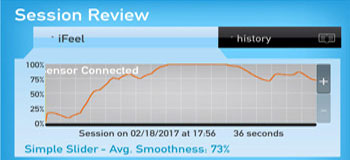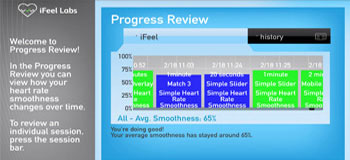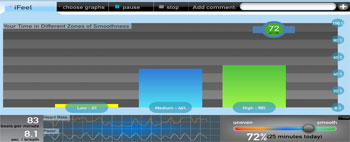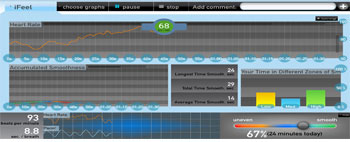 Alive Graphs (Graph Training)
Professional graphs from Alive Clinical
A selection of heart rate, smoothness and breath pacer graphs. Includes most heart rate graphs from Somatic
Vision's desktop software Alive Clinical (except the frequency bar graph).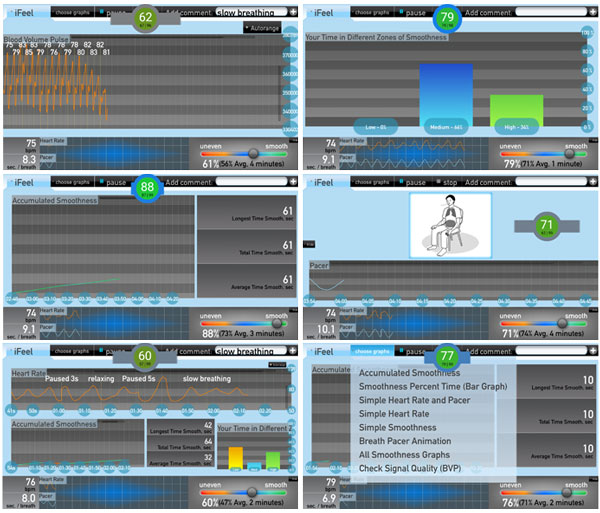 Android Apps & iFeel Bluetooth Heart Rate Sensor
Includes Ear and Finger Heart Rate Sensors, Base Unit, and All Apps. The iFeel Sensor can also be used with Alive if you own Alive.
$300, Sale price $249
Alive is available for the hospital grade iFeel Sensor. This highly accurate and comfortable sensor measures heart rate, SpO2 and blood volume pulse amplitude. This is a Bluetooth sensor and requires either a computer with Bluetooth or an Android device (with our Android Apps)
What Biofeedback System Choice for Me? Any doubts or questions, get personal help: clay@braintraincoach.com or 800-678-4210. What's best for you is what we do.
Minimum System Requirements
Android 4.3 or higher device with Bluetooth or BLE.
ARM Processor. Almost all (99%) of Android devices run ARM processors. If you have an Intel Atom processor (not ARM) the Apps may have issues (or may work fine). Intel Atom is not supported by Somatic Vision.
100 MB (Basic Apps) – 1 GB (All Apps) of Free Space on your Primary Storage. Additional space required as you train to save your sessions.
Some Particle World Environments need a moderately fast device such as a Samsung GALAXY S5, Samsung GALAXY Note 4, Samsung GALAXY Note Edge, LG G3, Sony Xperia Z3, HTC One M8, Google Nexus 6 or equivalent or higher speed device.
You must have, or create, a free Google account, as the Apps are installed from Google Play Store.
SOMATIC VISION / IFEEL APPS MAY ONLY BE USED ON ONE DEVICE.
Android Tablet (if needed)
If you don't already have an Android phone or tablet, we currently recommend the Dragon Touch X10 or Dragon Touch S8. These are both powerful yet inexpensive Android tablets (from $70-$120, purchase via Amazon). If you already have an Android device see the minimum requirements section above.