Sale!
Dual Drive Pro
A biofeedback game teaching optimal relaxation, focus & breathing skills.
Fun and revolutionary game teaches you to relax, breathe efficiently and optimize your heart rhythms.
7 Vehicles & 9 Mission Environments to choose

Improves Performance for school, sports & work

Vehicle & Environments respond to heart rate & finger sweat changes

Auto Pilot & Manual Driving options teach true multi-tasking realities!
Description
Dual Drive Pro is a teaching tool in an engaging Biofeedback Game.
Proven for children to adults: enables visual feedback to learn how to focus, relax and overcome attention deficit problems.
An excellent tool to teach the real results of multi-tasking, attention control and mindfulness.
Unique SomaSense TM technology insures that you will see and be able to control your your stress level measurements — a real time biofeedback response graphing of your heart rate variability* and skin conductance — all on your first use.
Kids and adults learn to relax. Great tool for adhd as well as re-conditioning the adult mind.
Learn to focus, concentrate and relax as you accelerate and control your car through incredible 3D graphical scenes – all through the power of mind/body control and biofeedback.
Dual Drive teaches you how to Relax to Win as you accelerate & control your car through incredible 3D graphical scenes.
When you learn and practice these techniques in Dual Drive you can see your heart rate changes and relaxation (optimal HRV) levels. This gives you important feedback as to how well you are breathing and how relaxed you are. While playing Dual Drive Pro in racing mode, the breath pacer helps you breathe slowly and steadily while the relaxation dial shows how relaxed you are. Relax and breathe in and out with the breath pacer to raise the dial and power your car.
Why Dual Drive?
Improves performance in school, playing sports and at work.

Adults learn to stay relaxed in challenging situations.

Kids learn how to relax while playing a video game.

Dual Drive Pro teaches you relaxation and optimal breathing techniques.
Dual Drive Pro Features:
Choose from 7 different vehicles

Vehicles include Police Car, Dune Buggy, Hummer & Muscle Cars

Professional music accompanies the game playing

Easy to change, highly accurate stress measurements

9 Mission Environments, including Aztec Swamp, Lost Desert, Arctic Iceberg & Coastal Sunset

Line graph and numeric displays quantify your changes

Responds to heart rate, heart coherence (HRV), finger sweat and sweat stability
How does it work?
Dual Drive responds to heart rate rhythms and finger sweat changes as measured by USB finger sensors.

Heart rate and finger sweat changes are reliable measures of stress and relaxation.

Dual Drive includes tracking and review features that let you view detailed graphs of your heart rate and relaxation levels.

Progress reports and session review show your increasing abilities to relax.

This stress level information is shown to you using line-graphs, beautiful 3D graphics and original music.

Easy to use, simple to install USB device.
Dual Drive uses finger sensors to optimize heart rhythms (HRV) and/or skin conductance (SCL); can be played with joystick, keyboard, mouse or hands free.
Great for relaxation, focus, concentration exercise that is fun. Benefits for the average fun seeking health enthusiast to those seeking help for ADHD to Insomnia.
AMAZING GRAPHICS — Here is just one of the cool examples of various 3D landscapes you will traverse — as you have fun learning to focus your mind, breath, body and soul.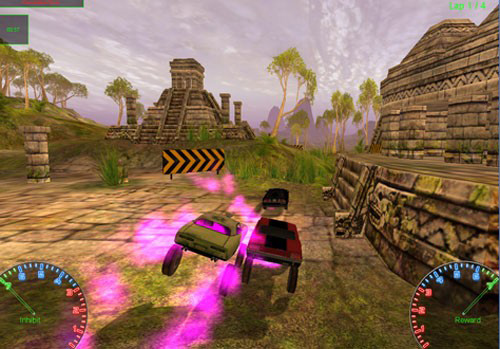 Here is an example of the Heart Rate Variability (HRV) data superimposed on the screen for the ultimate in Real Time Biofeedback.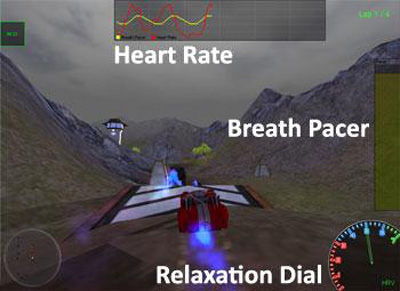 In the example above, you can see the way you can observe the graphed data on the screen to increase control.
For Dual Drive, you must relax to increase your heart rate variability in order for the ship to move fast.
For a GREAT EXAMPLE of how the Dual Drive Pro works, please review the ALIVE comprehensive program (which includes Dual Drive as one of its Games) as explained in this Video by game expert.
Please NOTE: Dual Drive begins at the 4:55 minute mark (see button and time counter at bottom of video). Watch the entire 7 minutes for a fantastic view of biofeedback gaming and how it can easily improve our mind, body and lifelong health.
System Requirements:
PC: Compatible with XP/Vista/Win7/Win8/Win 10 32x and 64 bit systems

**Not MAC compatible as stand alone software. CAN be used in ALIVE CLINICAL (Mac) or running in BootCamp or Parallels**

Intel Pentium IV Processor or higher

128 Mb OpenGL Video Card

512 Mb RAM

CD/DVD Drive

500 Mb of Disk Space

REQUIRES Hardware, biofeedback finger sensors for Wild Divine systems

ESRB Rated for everyone