Sale!
iFeel Bluetooth HRV Biofeedback Sensor
User Benefits:
Easy to use, comfortable Wireless connection in a watch-like wrist application makes it friendly & wearable
Bluetooth HRV Biofeedback Sensor works flawlessly with all Alive & Somatic Vision Software.
Uses heart rate and heart rate variability (hrv) measurements to control biofeedback games.
Bonus, built-in SPO2 measure on this hospital grade device.
*You receive BOTH a Finger and Ear/Finger combination (high grade cable) attachments.
Description
The iFeel Bluetooth HRV Biofeedback Sensor is perfect for mobile or laptop applications.
Combine the iFeel Bluetooth HRV Biofeedback Sensor's portability and comfort with an even better Alive Suite of Programs (*not included — see iFeel Alive System for full software & hardware).
Works with any laptop, desktop computer or Android Phone or Tablet which has bluetooth capabilities. You can easily add a bluetooth adaptor for approximately $10 if your older computer does not have it built-in.
Use the iFeel Bluetooth HRV Biofeedback Sensor with the Android Apps Package or any Alive software: it's built-in coaching, along with over 30 games, workshops and environments provides a stunning array of feel good, find awareness and build confidence exercises.
Play games like Dual Drive Pro ($100 by itself) — or immerse yourself in a soothing Incoming Tides of ocean waves video and sounds. The more relaxed you get the more rhythmic and relaxing the waves become.
iFeel Bluetooth HRV Biofeedback Sensor Benefits
Comfortable and Easy to Use Finger and Ear Sensors
Strong, Durable Design
Built-in Display Shows SpO2 and Average Heart Rate (allows you to monitor heart rate and SpO2 when not by a computer)
Bluetooth Wireless Connection (requires a computer with Bluetooth)
Android Apps Available as an add-on.
Includes USB Cable to Charge Battery
Runs for More Than 8 Hours On a Single Charge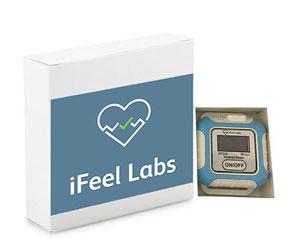 Information for Professionals
Works with Alive, Alive Clinical and Alive Pioneer
Great Add-On to existing systems. Use at the same time as the GP8 Amp to train Smoothness of 2 users simultaneously, or to train iFeel Heart Rate or BVP Amplitude with GP8 Amp Skin Conductance, Temperature and EMG (Muscle Tension)
No Software Upgrade Cost for Owners of Alive
Display and Review SpO2 in Alive
Higher Accuracy and Fewer Movement Artifacts compared to IOM, Lightstone or emWave sensors
Train Heart Rate, Smoothness and BVP Amplitude (BVP Amplitude training requires Alive Pioneer)
Designed for hospital use. CE and ISO Certified, FDA Registered iFeel Sensor
Lowest Cost Alive Packages — Highest Sensor Accuracy, Portability, & Comfort!
iFeel HRV Bluetooth Biofeedback Sensor
Normal Price of $219.
Sale Price of $199.
Receive:
iFeel HRV Bluetooth Biofeedback Sensor
Includes Ear and Finger Sensors. iFeel Sensor ships for FREE by U.S. Priority Mail (U.S only).
What Biofeedback System Choice for Me? Any doubts or questions, get personal help:
clay@braintraincoach.com or 800-678-4210. What's best for you is what we do.
Minimum System Requirements
REQUIRES Alive or Android Apps Software (link), not included.
Bluetooth Enabled Computer
Windows XP, Windows Vista, Windows 7, Windows 8, Windows 10 – or –
– or – Mac OS X 10.6 or higher
2.0 GHz Processor
Dedicated Video Card Supporting OpenGL 2.0
1 GB RAM
3 GB of Disk Space
Internet connection recommended (enables updates and community features)
Alive may work even if your computer does not meet the minimum video card requirements. If you are unsure if Alive will work on your computer please download OpenGL Caps Viewer and make sure your OpenGL version is 2.0 or higher (on the first tab of OpenGL Caps Viewer, next to OpenGL, it should say OpenGL 2.0 or higher).
ALIVE MAY ONLY BE USED ON ONE COMPUTER AT A TIME. ALIVE CAN BE INSTALLED ON TWO COMPUTERS AS LONG AS ONLY ONE COPY OF ALIVE IS IN USE AT ANY GIVEN TIME.