Alive HeartMath Personal Biofeedback Software
$149.00
Personal User Benefits:
Includes workshops, personal coaching and gaming for the ultimate learning experience.

An innovative and entertaining way to benefit from biofeedback technology.

Great for kids, adults, or anyone who loves games.

Uses heart rate and heart rate variability (hrv) measurements to control the game.

**Requires USB Ear Sensor Biofeedback Hardware.
Description
The ALIVE HeartMath Personal Biofeedback Software is a great add-on for the HeartMath USB sensor.
The Alive Suite of programs brings new, diverse and more in depth experiences to the HeartMath emWave Pro Desktop or cloud.
Use your HeartMath USB sensor** with the Alive software: it's built-in coaching, along with over 30 games, workshops and environments provides a stunning array of feel good, find awareness and build confidence exercises.
Play games like Dual Drive Pro (over $100 by itself) — or immerse yourself in a soothing Incoming Tides of ocean waves video and sounds. The more relaxed you get the more rhythmic and relaxing the waves become.

Check back to this page: Video snippets and training links coming soon.
Why choose the Alive HeartMath Personal Biofeedback Training System?
View your 'scores' and 'active feedback' in Real-Time, on screen overlay if you choose.
Train using detailed Heart Rate, HRV, and BVP graphs>
Works with HeartMath USB Ear Clip sensors** — measures Heart Rate with Variability Coherence in a hands-free method.
Includes Alive & Beyond 8 Week Coaching system for daily life guidance.
** USB HeartMath sensors not included, go here for purchase options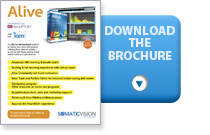 Alive is a Comprehensive Training & Gaming Environment — especially designed for ease of use and a beginner to intermediate Mindfulness Biofeedback application.
Play games specifically engineered to help you better manage stress and achieve better emotional and mental balance. Alive gives you an array of fun and engaging software games and tools designed to help you build skills that will improve your mental and physical performance — helping you meet your personal goals.
Alive, which also integrates coaching and performance tracking, uses biofeedback technology which has been proven effective in helping people achieve better mental agility and better performance in physically and emotionally demanding job and life situations.
Why do users love Alive?
Improves performance in school, playing sports and at work.
Adults learn to stay relaxed in challenging situations.
Kids learn how to relax while playing a video game.
The best way to understand something is to see it in action.
Watch this introduction video from our Stress-Free Living partner, the creator of Somatic Visions' Alive program. Ryan Deluz explains and shows how Alive is used to bring improved health to its users.
In the first 2 minutes, you can see how

heartrate, heart rate variability and smoothness are graphed

on the screen in real time.
At 3:45 – 4:45 minutes, you can see how to

create beautiful, multicolored, spiral particle showers.

Between 5 and 6 minutes, the video shows you the

popular Dual Drive Pro 3D Race game. Here you Relax to Go Fast

as you compete to win the race. It is easy to see why this is fun for 'kids of all ages'.
At the 7 minute mark, Ryan briefly introduces the multiplayer internet gaming aspect and the coaching workshops that teach relaxation techniques and cognitive behavior therapy.
NOTE:This software product does not include sensors hardware required to use the enclosed software and any Heart Math or Somatic Visions products.
PC and Mac Minimum System Requirements:
Alive Active Feedback Hardware — HeartMath emWave USB Ear Clip sensors *NOT included*
Mac OS X 10.6 or higher
Windows XP / Vista / Windows 7 / Windows 8 / Windows 8 / or Win 10 operating system
2.0 GHz Processor
Dedicated Video Card Supporting OpenGL 2.0
1 GB RAM
CD-Rom Drive
3 GB of Disk Space
Internet connection recommended (enables updates and community features)
Alive may work even if your computer does not meet the minimum video card requirements. If you are unsure if Alive will work on your computer please download OpenGL Caps Viewer and make sure your OpenGL version is 2.0 or higher (on the first tab of OpenGL Caps Viewer, next to OpenGL, it should say OpenGL 2.0 or higher).
ALIVE MAY ONLY BE USED ON ONE COMPUTER AT A TIME. ALIVE CAN BE INSTALLED ON TWO COMPUTERS AS LONG AS ONLY ONE COPY OF ALIVE IS IN USE AT ANY GIVEN TIME.
For future reading, here is an interesting article on biofeedback, "Basics of Brain Training" — to learn how this system can be used in your practice.