Alive Pioneer Biofeedback BioSignals System
$939.00
Alive Pioneer Biofeedback Complete System.
Includes Hardware for an unprecedented level of immediate, intuitive feedback and connections for you and your clients or patients.
Advanced Features such as Easy Artifact Removal, Dual Monitors, Emotional & Dual SCL/HRV measures.
Unlimited Users with storage and progress review graphs for all sessions.
Train Emotional Qualities with Patent Pending Algorithm.
MAC & PC Complete in program coaching system. Includes Mindfulness & Meditation instructions.
Audio Recording: Record & Review All Session Discussions in sync with Biofeedback Measures.
Description
Alive Pioneer Biofeedback System
Complete with BioSignals Hardware for the Professional.
This Professional level biofeedback system provides Clinical applications with 40+ extra Pioneer Level games, workshops, environment, features and measurable functions for 100+ options to use.
The BioSignals Hardware Sensors provide high level accuracy and ease of use with Heart Rate and Skin Conductance based measures. Combine with the Alive Pioneer Biofeedback Software and you have more measures than any comparable system. This is true flexibility of tools, methods and options.
Build new clientele and create added value to your practice with the this complete Alive Pioneer Biofeedback package. Imagine how adding a 'Pioneering' new level of feedback interactivity and teaching capacity will create better communication, mind/body understanding and progress which can be visually understood easily.
Do you say, "if the program only had this – I could use it so much better!" Good, BECAUSE…
Somatic Vision CONSISTENTLY listens to Alive Professional Users and UPGRADES its FEATURES – for FREE!
Alive Pioneer Biofeedback Recent Upgrades
Here are just 5 examples of new features, functions and capacities added to Alive:
Data Markers with easy, enhanced session artifact removal & re-calculation. No more guesswork! Perfect data in no time.
New session storage for users. Enables remote database user concepts (with encryption) and central system access for large facilities – like hospitals, schools, recovery centers, sports complexes or big company wellness programs.
Alive is now Polar H7 and Polar H10 compatible. More devices. All the time. Multi-use software.
You wanted more research level data? It's now here, including respiratory and a host of all the rest. rMSSD, NN50, TOTPWR, LF/HF, AVNN, et al – all available to cut into any time segment and evaluate.
4b. *A BONUS request from us @ BrainTrainCoach for

Vagal Tone evaluation

. With the help of leading Biofeedback Expert, Dr. Inna Khazan,

LN(HF) was added

, including in Bar Graph Review.
*

(a Vagal Tone and HRV biofeedback reference article is coming soon)

Built-in Stress Profile Module

with Stroop Test, fun Mouse Stress Game and more with full Custom Workshops.


**Expect new developments for extra plug-n-play module development from Braintraincoach.com.
Want to see what some of these upgrades look like – in Action?
Check out this is a quick 5 minute Overview.
Alive Pioneer Biofeedback System Benefits:
Unlimited number of graphing screens viewable at the same time.
Train with Average Heart Rate,

*BVP Amplitude*

, Heart Rate Range, and many more new Pioneer measurements.
New customized Particle Environments appropriate for each Pioneer measurements. These environments optionally let you

train two measurements simultaneously, for example heart rate and skin sweat at the same time!

Automatically or manually range any feedback for training.
Train 2 users together if you own (2) BioSignals, (2) Iom Pro/Lightstone, or (2) iFeel devices. Can also use (1) GP8 Amp with an iFeel HRV sensor.

Sports training and Marriage Counseling get a great, new synergy tool!

*Dr. Yuval Oded expertly teaches you how to train 2 people to overcome differences or work in team synergy with the Alive Pioneer Biofeedback Training with Couples White Paper.
Optionally

record and playback audio from a microphone

, to help you review important changes by what was said in the session.
Learn new Professional Biofeedback techniques with the Alive Pioneer Guide.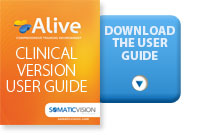 Alive Pioneer
A STRIKINGLY new level of Professional Biofeedback Programming —
at an affordable cost to any business or enthusiast.
(Note: This Video details a LOT of new features, but YOUR latest Version (3.2) practically DOUBLES the features & benefits shown here.
Somatic Vision regularly updates and improves the Alive program with new features at no cost
.)
MORE Alive Pioneer Version benefits:
All the many Alive Clinical version features are included.
Train Smoothness, Skin Conductance and

New Pioneer Measurements: Average Heart Rate, Emotional State, Autoranged Heart Rate Range,

and more.
All measurements can be manually adjusted or automatically ranged.
15+ new Pioneer Environments with over 1 hour of new inspiring music!
Dreamscapes game pack available soon as an exclusive add-on game for Alive Pioneer.

Optional Adaptive Pacer Feature

responds to your heart rate changes continuously – never manually adjust a breath pacer again!

Unlimited number of graphing screens can be open and recording at the same time.

New graphing screens are available for all Pioneer measurements!
Proprietary patent pending method for detecting and

displaying emotional changes

(experimental but very useful for people working with emotions).
Enhanced auditory training with

optional audio breath pacer

and success beep (choose from a variety of audio breath pacers).

Record audio using a microphone

and review what happened right before a skin sweat spike or large increase in smoothness.
Here is Comprehensive How-To Use Video based on the Pioneer Biofeedback User Guide.
Pick a subject from our topic timestamps and see how Alive can be used to enhance your practice.
Watch the sections which interest you the most.
1:01 – Launching Alive Clinical or Alive Standard instead of Alive Pioneer
6:02 – Training with 2 Measurements Together!
8:15 –

Pioneer Measurement Quick Reference

(learn about the Pioneer measurements!)
16:53 –

BVP Amplitude Quick Introduction

20:05 –

Emotion

Detection and Training
29:40 –

Measuring Physiological Responses to Custom Images

30:02 – 2 User Training – Graphing How 2 Users Influence Each Other
31:59 –

Recording Session Audio

34:40 – CHOOSING WHICH FEEDBACK TO USE
37:48 –

BVP AMPLITUDE TRAINING GUIDE
Email us if you want an Alive Comparison Chart which details the various features, benefits and uses of Alive Pioneer, Alive Clinical & Alive Standard versions. See our special Q & A form for the best answers.
Alive Pioneer also contains these new features.
Two, now FIVE New Alive Environments: Valley, a beautiful nature scene where birds and butterflies appear and gently explore their environment, and Petals of Light, a glowing energy mandala screen.
Over an hour of new music.

Train with emotional state using our new emotional detection algorithms

(GP8 Amp or IOM only, these don't perfectly reflect emotional state, but are amazing training tools for people to understand and work with emotions).
Set the breath pacer to automatically adapt to heart rate and breathing, instead of trying to manually choose a single pace.
Turn on breath pacer sounds to hear an

auditory indication of when to inhale and exhale.

Additional measurement available in review.
Disable skin conductance for users with

broken IOM or Lightstone sensors (so these users can continue using heart rate and bvp amplitude feedback).

New *Alive Pioneer User Guide* and VIDEO ABOVE that teaches the

importance of BVP Amplitude training, and how to get started

with BVP Amplitude training.
The Dreamscapes Suite works in tandem with Alive PIONEER from its control panel.
It is a FAVORITE.
See (below) how you can ADD it in a Special Deal to save $200.
What Biofeedback System Choice for Me? Any doubts or questions, get personal help:
clay@braintraincoach.com or 800-678-4210. What's best for you is what we do.
System Requirements Windows PC & Mac:
Windows XP / Vista / Windows 7 / Windows 8 / Windows 10 / Windows 11 operating system
macOS 10.10 – 10.15 (Catalina) (older macOS will work, but 10.10+ preferred)
Go here for macOS Catalina and Higher Requirements (PLEASE View, e.g, no Iom sensor)
INCLUDES BioSignals HS HRV/SCL Hardware Finger Sensor System.
SOFTWARE AVAILABLE by DOWNLOAD ONLY
3 GB of Free Disk Space.
Alive Pioneer may only be used on one computer at a time. Alive Pioneer Software can be installed on two computers as long as only one copy of Pioneer is in use at any given time.
2.0 GHz Processor
Dedicated Video Card Supporting *OpenGL 2.0
1 GB RAM
Internet connection recommended (enables updates and community features)
Alive may work even if your computer does not meet the minimum video card requirements. If you are unsure if Alive will work on your computer please download OpenGL Caps Viewer and make sure your OpenGL version is 2.0 or higher (on the first tab of OpenGL Caps Viewer, next to OpenGL, it should say OpenGL 2.0 or higher).
Alive Pioneer may only be used on one computer at a time. Alive Pioneer Software can be installed on two computers as long as only one copy of Pioneer is in use at any given time.

To learn where you can get the most Clinical Biofeedback background, here is a short take on 3 Professional Biofeedback Book Resources "Top 3 Biofeedback Books For Professionals" — such that you can best learn how this system can be used in your practice.