Inner Tube Biofeedback Game
$79.00
Inner Tube — flying based Biofeedback Game teaches how to 'Relax to Win'.
Uses heart rate, heart rate variability (HRV) & galvanic skin response (GSR) to control the ship's speed & to alter the in-game environment.
A helpful line graph on the bottom of the screen displays your biofeedback readings as you progress through the game.
4 ships to traverse 80 levels

40 professional music pieces adjust to your stress

Auto Pilot or Manual Controls allow flexibility

Integrates with Alive Clinical for progress review
Description
Inner Tube Biofeedback Software Game for Alive Biofeedback Systems
Kids gravitate to this flying 'tube' game which opens into the sky!  Adults find it easy & effective.
An easy to use biofeedback game which can work by itself with your existing sensors *(Iom, emWave, iFeel, BioSignals) or as part of any Alive Biofeedback Platform.
Biofeedback Game Training is proven for children and adults to learn how to focus, relax and overcome attention deficit problems.
Use your MIND to Control the ship and speed as you race the clock to the end of 80 tunnel levels — speed, fog and music volume respond to your stress levels.
Unique SomaSenseTM technology insures that you will see and be able to control your your stress level measurements — a real time biofeedback response graphing of your heart rate variability* and skin conductance — all on your first use.
*See Screenshots below*. Envision how the fascinating real time biofeedback response graphing combine with immersive graphics to engage users of all backgrounds.
Fun for kids, teens and gamers. Easy for adults / non-gamers with "auto-pilot" mode.
Teaches useful skills for kids, parents, athletes, executives and anyone who needs to stay relaxed, responsive and resourceful under pressure.
Relax to win. Control ship speed with your mind.
Inner Tube 3 Features:
80 levels with 60 New Levels
4 ships with 3 New Ships
40 pieces of professional music with 30 New Music Pieces
Easy to change, highly accurate stress measurements
Background music changes volume with your stress levels
line graph and numeric displays quantify your changes
Responds to heart rate, heart coherence (HRV), finger sweat and sweat stability
Cool Graphics and flying engage all users.
Game screenshots prove visual appeal — it's fun to train your mind!
Here are just 2 screenshots of many cool options. Envision how the amazing color of the graphical 3D landscape you control while flying your ship creates a fun learning experience with the result of a focused mind, breath, body and soul.
Great for relaxation, focus, concentration exercise that is fun. Benefits for the average fun seeking health enthusiast to those seeking help for ADHD to Insomnia.
You can Customize the game responses.
Ship reflectivity
Tunnel transparency
Sky visibility
Autopilot skill levels
Fog — which is a clear visual metaphor
Ship speed — Relax to go fast!
Background music volume
And even more interesting variable
All these customizable game responses are linked to your heart-rate and skin sweat conductance.  Your control creates fun new levels of interactivity.
Here is an example of how your biofeedback response guides you as Heart Rate Variability (HRV) data is superimposed on the screen for the ultimate in Real Time Biofeedback.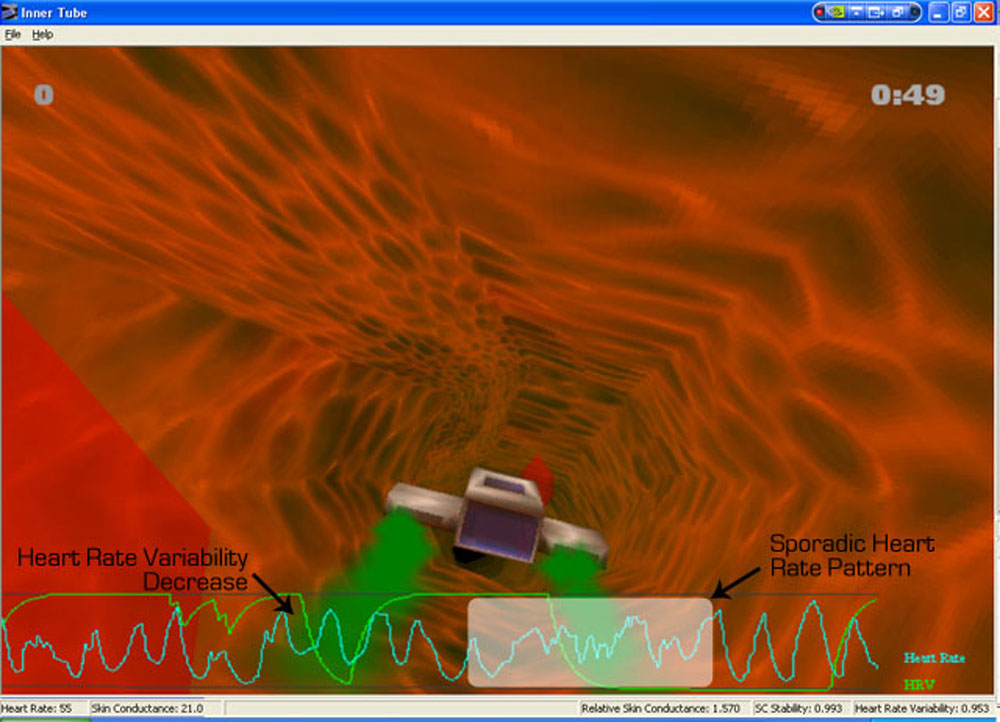 In the example above, you can see the way you can observe the graphed data on the screen to increase control.
The heart rate variability (graphic above) is shown by the green line and the heart rate is shown by the blue line. Smooth heart rate changes (blue) lead to an increase in heart rate variability (green) and make the ship fly fast enough to get to the end of the level in time.
How does it work?
Inner Tube is an active 3D environments that responds to your mind and body.
The software requires biofeedback sensors, such as iFeel, BioSignals or the Wild Divine finger sensors to read your heart rate, heart coherence (HRV) and skin sweat stability.
These measurements can be used to determine, view and affect control of your stress levels.
This stress level information is shown to you using line-graphs, beautiful 3D graphics and original music.
This game uses a science-fiction setting to teach useful skills for kids, parents, athletes, executives and anyone who needs to stay relaxed, responsive and resourceful under pressure. Fun for kids, teens and Gamers.
First of the Somatic Vision biofeedback games.
Easy for adults / non-gamers with "auto-pilot" mode. Inner Tube 3 has been successful world-wide with clinicians and users of all ages, and it is easy to use.
Young kids and elderly find it engaging and rewarding
Very easy to use, easy to gain advantages.
Although Inner Tube is not a complex game and any home user will able to start using it quickly, many professionals using it with clients. Our Professional Biofeedback Clientele or the clients themselves often reach out to Stress-Free Living to see how they can get their own home units, too. Fortunately, you can do that inexpensively.
For advance metrics and better progress review over time, Inner Tube can also work within any Alive Clinical or Pioneer platform.
Do you already own a biofeedback sensor?
Yes?  Simply let us know what type of sensor you own prior to purchasing.  We'll supply the correct version for you.
If you are new to biofeedback, this is an easy and inexpensive way to start.  You will also need a biofeedback sensor, but Stress-Free Living can help you choose. Touch base with us to see how you can get the most reliable one which works for your situation and budget.
Inner Tube remains a favorite over the years.  Here are just 2 Reviews on an independent retail platform.
Helps the kids relax
This program has helped the whole family calm down. Just a few minutes of "play" and you calm right down.
Great stress monitor
This is a software programme to be used with the wild divine light stone. You will travel through a tunnel in some sort of spaceship – different styles of vehicles and tunnels are available. When you are relaxed – this will appear from your heart rate and the sweat production of your skin – the spaceship moves smoothly. When you are not, it falters, and may even turn back. At the end of the tunnel your space ship will shoot into the clear blue sky.

Very entertaining and it will increase your awareness of stress and tension, and how to be more in control of your emotional state. After a few sessions I was able to influence the movement of the spaceship for short periods of time, and with more practice I got better and better at it. The effects lasted for a while after I finished the game./p>

So it really taught me something about myself. Useful and fun. I let some friends try it too and they all liked it and were impressed with the results. Men and women alike.
System Requirements:
PC: Compatible with XP/Vista/Win7/Win8/Win 10 32x and 64 bit systems
Mac Systems are not natively compatible.
Inner Tube for Alive can use Mac systems or be run in Parallels or Bootcamp for Mac
*almost all Somatic Vision biofeedback software is Mac ready.
Runs on low end, older computers.
128 Mb OpenGL Video Card (most on board graphics are sufficient).
512 MB RAM, 500 MB of Disk Space.
REQUIRES Hardware sensors, not included.  Multiple sensors will work Iom Pro, Lightstone, iFeel, BioSignals, GP8.
Inner Tube may only be used on one computer at a time. Inner Tube can be installed on two computers as long as only one copy of Inner Tube is in use at any given time.
Additional information
| | |
| --- | --- |
| Weight | 0.3 lbs |
| Dimensions | 12 × 8 × 1 in |