Alive Online Biofeedback
$595.00
Alive Online Biofeedback
This will be your Remote Biofeedback program of choice due to its ease of use, effectiveness and capacity.
Manage 8 clients per week.  1 time nominal fee for a lifetime of Remote Client Access.
View Time Trained and Each Minute's Average: Heart Rate, Smoothness, Smoothness Difficulty, Pacer Speed, Skin Conductance (if available), LF / HF, LF / Other, BVP Amplitude and SpO2 (if available).
Works with: iFeel Sensors, BioSignals HS, emWave, Lightstone.
Description
Alive Online is a full platform for Clinicians with Remote Biofeedback Clients.
1 purchase allows for up to 100 clients per year!
• Train 8 remote clients each week with 1 Alive Online serial number.
• Train with Zoom using Alive Clinical on their computer. Remotely monitor progress using the Alive Online website.
• Purchase once for a permanent license. Choose any 8 clients each week. No monthly fees.
Create a better home practice and continual learning of principles into a daily and weekly effort.  100% verifiable compliance, including usage and progress graphs can easily be reviewed and shared with each individual client.  This increases efficacy and can provide another support and income stream.
BrainTrainCoach.com adds in the BONUS of a No-Cost Workshop and Client Support Process to help Clinicians add this important capacity to their business – or become 100% Online Teletherapy with a Biofeedback component for client access anywhere in the world.
Using Alive Online
• Your clients get free use of Alive Clinical for that week.  Home practice with verifiable compliance.
• Your clients can train once a week for 60-minutes (this can be used for a remote Zoom session).
• Your clients can train for (*upgraded) 20-minutes each day in-between sessions.
• Minutes are only counted while actively training (e.g. using graph training or a game).
• Your client must be online (with an Internet connection) and accept that their data will be uploaded for your review. All online data is stored completely anonymously (linked only to the temporary serial number you generate). No client names can be stored online.
Purchasing Alive Online
You purchase Alive Online for $595.
Each week you receive 8 temporary Alive Clinical serial numbers to give to your clients.
Your client purchases a sensor of their choice, starting at $149. You can also lease sensors to your clients.
**Special programs from Braintraincoach.com will be available for you or your clients for sensor purchase or lease options.**
Alive Online – Remote Training Sessions with Alive
Watch this short 1 min 53 second video for the overview.
*Regular onboarding and support will also be available.
Make sure to get this White Paper, Enhancing Human Performance with Alive Biofeedback, by Dr. Yuval Oded, a leading biofeedback expert. He explains Peak Performance and Flow States using the Alive Clinical program.
In these 5 brief pages, you'll read of details on the benefits of flow states, optimal performance with the specifics of the Alive Clinical measures, games, exercises and uses.
There are charts, diagrams, lists and research notes.
Invaluable.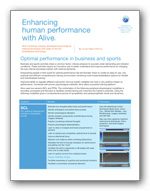 Alive Online Feature Details
• You can check your clients' progress at any time on the Alive Online website.
• View Time Trained and Each Minute's Average: Heart Rate, Smoothness, Smoothness Difficulty, Pacer Speed, Skin Conductance (if available), LF / HF, LF / Other, BVP Amplitude and SpO2 (if available).
Biofeedback Sensor Compatibility
•Compatible Sensors: iFeel, BioSignals HS, emWave, Lightstone/Iom Sensors.  Does not work with the GP8 Amp.  Limited use with BioSignals HS+ (only heart rate and skin conductance).
What Biofeedback System Choice for Me? Any doubts or questions, get personal help:
clay@braintraincoach.com or 800-678-4210. What's best for you is what we do.
Minimum Requirements:
You must be connected to the Internet to use Alive Online.

Own, purchase or rent Biofeedback Sensors (see above list)

Windows XP, Windows Vista, Windows 7, Windows 8, Windows 10, Windows 11

macOS 10.10 – 10.15 (Catalina)

Old Iom sensors are 32 bit. See Catalina and Higher Requirements for the 64 bit Mac os/Alive version. All other sensors are available.

2.0 GHz Processor, i5 or greater recommended

Dedicated Video Card with 512 MB of Dedicated Video Memory (almost any nVidia or AMD card)
Alive may work even if your computer does not meet the minimum video card requirements. If you are unsure if Alive will work on your computer please download OpenGL Caps Viewer and make sure your OpenGL version is 2.0 or higher (on the first tab of OpenGL Caps Viewer, next to OpenGL, it should say OpenGL 2.0 or higher).