Alive Biofeedback Student Stress Relief
$249.00
Skills, Functions & Benefits:
Mindfulness, Meditation, Relaxation & Focus ALL made easier with proven Alive biofeedback.
30 Workshops, Games & Environments teach lifelong emotional intelligence skills in a fun way.
A very portable sensor biofeedback system. Also can use independent Heart Rate and SPO2 measures.
Uses heart rate and heart rate variability (hrv) measurements to control the game.
*Includes Alive Home Software & USB Sensor Biofeedback Hardware with your choice for ear or finger.
BrainTrainCoach unique bonuses: extended 60 day return guarantee & future student tips guide.
Description
The ALIVE Student Stress Relief Biofeedback System is perfect for test anxiety and de-stressing for college or high school students.
This simple to use, but complete and varied system of biofeedback, gaming and mindfulness methods has 30+ options. It can be the basis for a new level of relaxation and focus. These methods have proven to create 10+ point test advantage from middle school math to GRE tests.
The
Alive Home Version Software

is the base for this system. Combine the iFeel Sensor's minimalist design, high accuracy and comfort with an even better Alive Suite of Programs as the base for a high level biofeedback self-learning system.
Works with any laptop or desktop computer by any available USB connection.
This Biofeedback Student Stress Relief system begins with the iFeel Alive sensor and the Alive Standard Home software. The Alive software is a comprehensive suite with built-in coaching, along with over 30 games, workshops and environments to provide a stunning array of feel good, find awareness and confidence building exercises.
The iFeel sensor was originally developed for *medical grade applications, therefore, it is a good choice *(see below) for any professional or high-level enthusiast who wants the more advanced options of the Clinical or Pioneer versions of Alive. The sensor uses a simple USB technology which works on any laptop or desktop — or use with a tablet if you *add the Android Apps software*. You can see the full iFeel Android Apps Package – a perfect fit for the Student with its new and interesting apps. The Android Apps package uses many Alive features, but also was created with phone & tablet-based games in mind.
What is the BEST WAY to learn?
In a fun, entertaining, interactive, visually attuned system. Alive is such a system. It can create awareness, control, focus and relaxation in a true biofeedback-based Student Stress Relief program. Play games like Dual Drive Pro (the full $100 version is included) — or immerse yourself in a soothing Incoming Tides of ocean waves video and sounds. The more relaxed you get the more rhythmic and relaxing the waves become.
Multi-tasking? Test Anxiety? General College Stresses?
Here are just two examples: a rhythmic relaxing environment – or – the full action, 'you think you can multi-task, but this proves if you can' driving game for 2 diverse options in this fully packed Biofeedback Software Suite.
Relax with Soothing Incoming Tides Environment – just 1 of 10 Choices in the Alive Biofeedback Software Suite.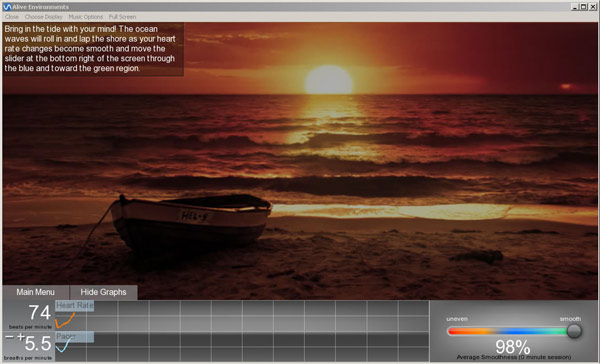 Use Biofeedback Gaming to learn de-Stress & Focus Power with the Dual Drive Game in Alive Software.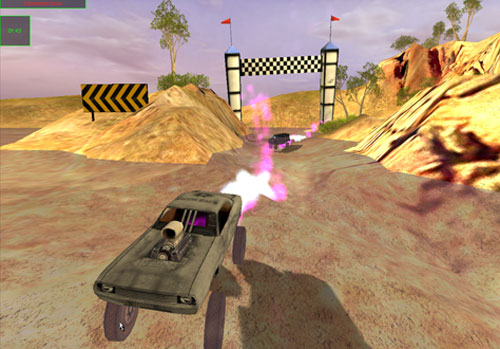 Why choose the this Biofeedback Student Stress Relief option? Just a few reasons:
View your 'scores' and 'active feedback' in Real-Time, on screen overlay if you choose.
Train using detailed Heart Rate, HRV, and other graphs.
You can choose the sensor which works best for you — a soft Finger Only version or the Ear Clip which can also work on a finger. When using the Ear — you can change to a hands-free method, but sometimes the signal is not as strong.
Includes Alive & Beyond 8 Week Coaching system for daily biofeedback & life success guidance.
iFeel Sensor Benefits
Comfortable and Easy to Use Finger and Ear Sensors. (*ships with Ear Sensor which can be used on Finger. 2nd option is soft, finger only sensor.
Strong, Durable Design
USB Connection for secure, easy to use function for all computers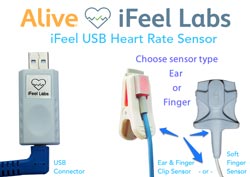 Information for Professionals
Works with Alive, Alive Clinical and Alive Pioneer if you choose to upgrade
Use at the same time as the GP8 Amp to train Smoothness of 2 users simultaneously, or to train iFeel Heart Rate or BVP Amplitude with GP8 Amp Skin Conductance, Temperature and EMG (Muscle Tension)
200 samples per second accuracy allows Smoothness / HRV training for people with low heart rate variability
Display and Review SpO2 in Alive
Higher Accuracy and Fewer Movement Artifacts compared to IOM, Lightstone or emWave sensors
Train Heart Rate, Smoothness and BVP Amplitude (BVP Amplitude training requires Alive Pioneer)
Designed for hospital use. CE and ISO Certified, FDA Registered iFeel Sensor
Lowest Cost Alive Packages — Highest Sensor Accuracy, Portability, & Comfort!
Biofeedback Student Stress Relief — the iFeel Alive Personal Biofeedback System
Normal Price of $299.
Sale Price of $249 – this price is made for Students to help deal with Stress and Anxiety; we are providing at a discount because our youth need emotional resilience tools now more than ever!
Receive:
Alive Home (Standard) Software with iFeel USB Sensor
Includes your choice of Ear or Finger Sensors and iFeel Biofeedback USB Sensor shipped for FREE by U.S. Priority Mail (U.S only).
What Biofeedback System Choice for Me? Any doubts or questions, get personal help:
clay@braintraincoach.com or 800-678-4210. What's best for you is what we do.
Minimum System Requirements
Windows XP, Windows Vista, Windows 7, Windows 8, Windows 10, Windows 111- or –
macOS 10.10 – 10.15 (Catalina) (older macOS will work, but 10.10+ preferred)
Go here for macOS Catalina and Higher Requirements
2.0 GHz Processor
Dedicated Video Card Supporting OpenGL 2.0
1 GB RAM
3 GB of Disk Space
Internet connection recommended (enables updates and community features)
Alive may work even if your computer does not meet the minimum video card requirements. If you are unsure if Alive will work on your computer please download OpenGL Caps Viewer and make sure your OpenGL version is 2.0 or higher (on the first tab of OpenGL Caps Viewer, next to OpenGL, it should say OpenGL 2.0 or higher).
ALIVE MAY ONLY BE USED ON ONE COMPUTER AT A TIME. ALIVE CAN BE INSTALLED ON TWO COMPUTERS AS LONG AS ONLY ONE COPY OF ALIVE IS IN USE AT ANY GIVEN TIME.