Seven Ways Mindfulness Can Help Teachers, a Quick Summary
(for the full article, see the Greater Good link at the bottom of the page)
Author Patricia Jennings has 40 years of experience in the education system, her book, Mindfulness for Teachers, outlines several mindfulness practices—such as focused breathing, open awareness, and loving-kindness for the teacher to learn mindfulness initially, then impart it empathically throughout the classroom.
1. Mindfulness helps the teacher first, the student second
Perception and self-attenuation can guide the classroom to better behavior and greater results.  With awareness, the teacher can remove her or his own emotions from a disruptive student, thereby, diffusing the disruption, finding the cause and better leading the lesson and class.
Alternatively, without mindfulness practice one could get caught up in their own reactive behavior.
2. Mindfulness creates a medium for better communication
Patricia gives the example of becoming aware of the ineffective way she was communicating to her class in her first year of teaching; she needed feedback to understand she was giving control away to the students.  She states, "After that feedback, I began to monitor myself to break this bad habit, and this helped me to see how mindful self-awareness could help me succeed as a teacher."
Do you take a few minutes a day to monitor or review your self-talk, and classroom language?
3. Mindfulness helps to manage the more difficult students
Cultivating empathy and non-judgmental awareness is a product of regular, personal mindfulness practice.  To recognize your own emotional responses to the disruptive student's actions can be a guide to the underlying cause of the students outbursts; this can lead to both compassion and understanding the proper actions the teacher should take.
Over 30 workshops, games and soothing environments with expert guidance.

On screen, real-time feedback for quick visual learning.

Just 10 minutes per day to achieve greater harmony, focus & mindfulness.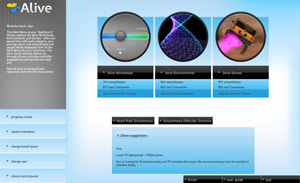 Click the image to see more.
4. Mindfulness helps set up a positive learning environment
Instead of engaging in the power struggle of control with your students, it is better to create an effective learning environment by practicing the higher level of self-control.
Imagine that as you dictate by language framing, physical space allocations, setting and reinforcing of limits appropriately, you create functional behavioral controls.  'Practicing mindful awareness helps you develop the skill of paying attention in the present moment by learning to see what's truly happening in your classroom', you increase your control of the classroom.
5. Mindfulness helps strengthen the student – teacher relationship
Mindfulness practice, to me, embraces empathy at its core.
Research proves that an effective classroom begins with the relationship between teacher and students; what is more important than compassion and respect in this relationship?
By making a conscientious,  mindful effort to say, "I see you" by recognizing behavior from academic achievement to the non-academic virtues of helpfulness, kindness, creativity or conflict-resolution, the students gain a greater connection to their teacher.  Simple acts of acknowledgement are fundamental to the practice of a mindful, aware person.
6. Mindfulness teaches us how to slow down when we don't have time to think about slowing down
Here Patricia explains how becoming more mindful of how the students are processing the information versus the unconscious, self-need to get through a lesson plan becomes a positive by-product of her outside mindfulness practice.
A pause to understand, a pause to 'let it sink in', a pause to check your own path and pace: all of these serve the dual purpose of increasing understanding while modeling a mindful, aware state from which students will follow in their behavior.
She states, "If we rush because we are anxious, we may miss these opportunities to deepen learning.  Mindfulness can teach us to wait and be patient and to time our pauses appropriately."
7. Mindfulness helps to build a community
Students, children, all people have a basic need to feel like they are a part of the group and welcomed.  At its core, a mindful teacher embodies awareness in each individual's needs symbiotically, naturally as part of her or his own peace of mind training.  This creates prosocial behavior and fosters community in all of the classroom as the leader, the teacher mindfully listens to our students.
In summary, Patricia A Jennings says:
In all of these ways, mindfulness can help teachers to be the best they can be and bring out the best in their students. Being able to approach a classroom with a sense of calm understanding and the skills to intervene appropriately can make learning a pleasure for everyone.
Attributions and Links
The Greater Good site link to the original article:

Seven Ways Mindfulness Can Help Teachers.
The Mindful Classroom image is from a great site by Daniel Rechtschaffen where Mindfulness is shared in a warm way.