Virtual Reality Biofeedback
$295.00
Virtual Reality feedback is stronger and more fun than traditional feedback!
Look all around and experience feedback in fully immersive 3D VR!
An innovative and entertaining way to benefit from biofeedback technology.
Fly as an eagle — Look down on Earth from space.
Great for kids, adults, or anyone who loves games.
Full Suite of Games and Environments, including 6 new in free update.
*Works with HTC Vive and Oculus Rift (not included). Requires Alive Biofeedback System with iFeel, GP8 or emWave Sensor. Not included.
Description
Virtual Reality Biofeedback Software Suite for Alive Biofeedback Systems
A Comprehensive Training Tool adding value, options and increased connection to your clients and for your service.
The Somatic Vision virtual reality biofeedback suite is a REAL feedback based, mind and body engaging, fully immersive 3D Games and Environments experience. They way you 'feel' changes how your 360 degree scene or game works.
You can feel like you have been transported to another world — a world that changes in response to your relaxation and mood shifts — this is the immersive power of virtual reality biofeedback in this suite of games.
Virtual Reality feedback is stronger and more fun than traditional feedback!
In fact, MILLIONS of $$ are now being invested in Virtual Reality Biofeedback development as recent studies prove it's increased effectiveness when combined with current modalities. But your investment is small – and it's ready to help you right here, right now.
Relaxation, Focus, Emotional Control, Optimal Performance – FEEL them, learn them ALL
in Virtual Reality Biofeedback as you Fly Like An Eagle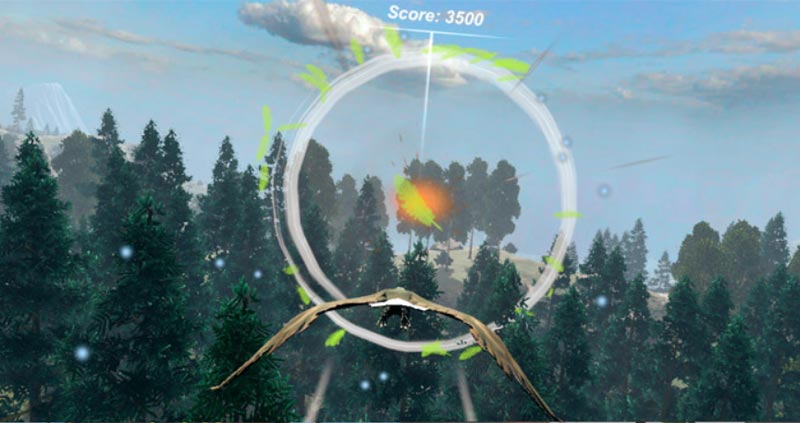 Look all around and experience feedback in fully immersive 3D VR!
Change night to day by relaxing on a beautiful tropical beach.
Fly as an eagle — Look down on Earth from space
Play pinball, air hockey, and navigate through detailed environments.
Play fun games with full Alive graphing and strong feedback in VR.
Computer based VR feels like you are really there!
Transport yourself to another reality through Somatic Vision's fantastic feedback environments and games.
How do you feel like this can work for you?
Can you use this immersive technology in a virtual reality experience to make teenagers and young adults aware of the risks and dangers for opioid abuse to "help frame their attitudes."
This business journal article gives just 1 reason (opioid crisis) why it's a valuable new resource for the clinician; how many can you add?
Somatic Vision consistently improves their software.
The Alive Pioneer software platform has received significant and frequent updates in last 2 years – for free. Virtual Reality Suite owners ALSO received 6 new games as a free update recently. This is one of my FAVORITE benefits of Alive software programs.
Here are just 2 of 6 New Immersive Biofeedback Games added in 2019 – for FREE to this VR Suite.
Take a look! Can you see how incredibly engaging they will be inside a Virtual Reality environment?
Here are 2 more NEW (added free) fun Biofeedback Virtual Reality Games.
On the left is the VR version of Air Hockey. You'll use a hand controllers for sure. On the right is a new way to test hand-eye coordination, focus and train anti-anxiety skills in a fun game.
Below are 2 Immersive Environments from the original Virtual Reality Biofeedback Suite – just imagine being 'inside the view'!
A coach, parent, teacher or clinician has countless new ways to use this Biofeedback Tool with these Environments.
Why add Virtual Reality Biofeedback
Everyone can train for hours without getting bored. Students and clients will love it!
Immersive environments will make biofeedback learning have greater impact.
Makes heart rate smoothness training fun and easy.
Skin sweat feedback is more responsive in a VR environment.
Virtual Reality has proven effective when accessing awareness to overcome triggers, fears or difficulties.
One more tool for an improved learning experience.
How will you use the Virtual Reality Biofeedback Suite?
Do you have the Alive Pioneer System with a GP8 Multi-Sensor Hardware Package? Or do you own the Iom Pro or similar Alive System? Both are excellent options to use as the base for the Virtual Reality Biofeedback Suite as Alive software is required. Most professionals like to have a hands free sensor version which is simple and easy to setup and get started for clients. We have best case add-on for you!
Simply put – any sensor with any Alive software will work. Read on or reach out to us.
You can Add an iFeel Bluetooth Heart Rate Sensor to your Virtual Reality Biofeedback. This becomes necessary to ensure the best signal quality as some VR games require the use of both hands. Place the Clip Sensor on your ear or the Foam Sensor on your pinky, to free your client's hands to use with the VR motion controllers.
The iFeel Sensor can be purchased in a USB style, but we recommend the iFeel Bluetooth Wireless version for this application of the virtual reality biofeedback environment; the iFeel Sensor measures Smoothness / HRV and is very accurate. Simply ask us if you want to learn more.
Virtual Reality Biofeedback is an oncoming trend.
Virtual Reality, especially when coupled with biofeedback, will become a 'go-to' self-improvement and optimal performance tool known to all in a few years. Here is a study on its merits The use of biofeedback in clinical virtual reality: The Intrepid Project . There are numerous studies and projects in military and university settings. You can be an early adopter, a Pioneer and an advanced user before everyone else.
The Somatic Vision Virtual Reality Biofeedback Suite is available by download for immediate access of the latest version.
It works with the Alive Software (required) and any or all Alive compatible hardware sensors.
Minimum System Requirements:
HTC Vive or Oculus Rift Virtual Reality System with Hand Controllers (not included)
Alive Home, Clinical, or Pioneer Software Suite (not included)
Computer that supports the HTC Vive or Oculus Rift. See the requirements when purchasing the Vive or Rift, but generally you need an nVidia GTX 970 or 1060 or higher. For most people this will mean purchasing a new video card for your desktop. For laptop users this will mean purchasing a new computer.
If you purchase an Oculus Rift, purchase a package that includes the Oculus Touch controllers. The Vive comes with all required controllers.
Windows 8 or Windows 10 (64-bit)
3 GB of Disk Space
ALIVE MAY ONLY BE USED ON ONE COMPUTER AT A TIME. THE SOFTWARE CAN BE INSTALLED ON TWO COMPUTERS AS LONG AS ONLY ONE COPY IS IN USE AT ANY GIVEN TIME.